Address Sheet Label #86 - 4" x 1.4375" - Blank Sheets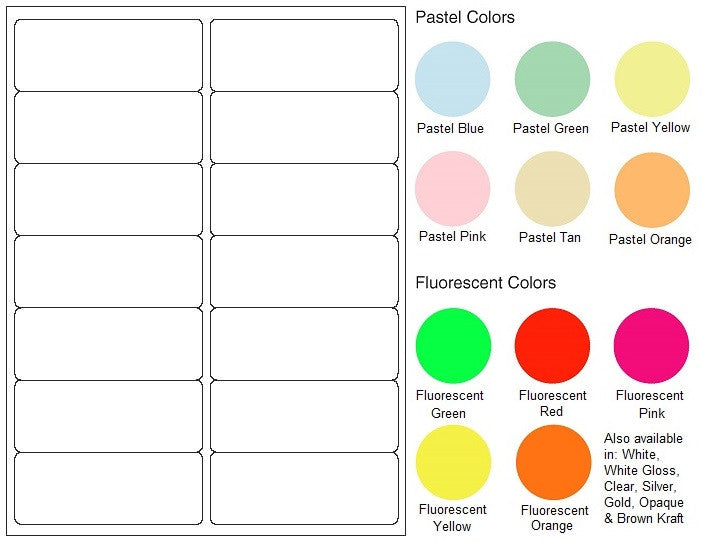 Blank Label Details
Product #86
Sheet Size: 8.5" x 11"
Dimensions: 4" x 1.4375"
Margins: Top: .46875" Bottom: .46875" Left: .1875" Right: .1875"
Vertical Spacing: 0"

Horizontal Spacing: .125"
Corner Radius: .09375 "
Labels per sheet: 14
Round Corners - No Perf

Intended use: Address Label
Paper Stock Options:
        Packs, Half Cartons and Cartons
        Half Cartons and Cartons
        Cartons Only
 
 
 

White Perm -Fasson (Laser/Inkjet)
Opaque (Laser/Inkjet)
Fluorescent (Laser Only)
Pastel (Laser Only)
Removable (Laser/Inkjet)
White High Gloss (Laser Only)
Photo Gloss Premium (Inkjet Only)
Clear Matte Laser (Laser Only)
Clear Matte Inkjet (Laser/Inkjet)

60 lbs Facesheet (Laser/Inkjet)
All Temp Freezer (Laser/Inkjet)
Matte Litho (Laser Only)
Mid Gloss (Laser Only)
White Polyester (Laser Only)
Silver Foil (Laser Only)
Gold Foil (Laser Only)
Brown Kraft (Laser/Inkjet)

Recycled (Laser/Inkjet)
White Vinyl Drum (Laser Only)
Quantities
Pack of 250 sheets
Half Cartons of 500 sheets
Cartons of 1,000 sheets
Contact us for discounts on quantities greater than 5 cartons and for smaller quantity options!
Personalized Products (Labels, Children's Products & Stampers)

Free Shipping and Handling

There is no additional charge for shipping and handling.  You may find similar products offered at a lower price, check the shipping fees and then compare to our prices.

Free Shipping only to U.S. Address

This includes APO, FPO, Puerto Rico, Guam and the U.S. Virgin Islands. We do ship to APO and FPO addresses via standard U.S. mail. Enter your APO or FPO address as you usually do. The APO or FPO portion of your address should be entered into the "City" text field on our order form. AA, AE, or AP should be selected from the "State" pull down menu. (AA, AE and AP appear alphabetically in the state list). Zip codes should be contain the appropriate Zip+4 code if known.

Standard Free Shipping

Most personalized labels, stampers, and poems are shipped via "Bulk" Mail and delivered through the U.S. Postal Service.

Some Personalized Sheet Labels and the Teaching Art are shipped by USPS 1st Class. Products are often shipped separately as they are produced and arrive in multiple  packages. 

 

Generally your order will be printed and shipped 

within one week

 of when the order is processed.

Please allow up to 3 weeks from the day we ship each package for it to arrive. Designer Name Poems sometimes take an extra week in production, please allow ample time for delivery.

Since orders are shipped via bulk mail, the post office will not forward your package (EVEN if you have put in a forwarding request).  Currently we do not generally send a shipping confirmation email on personalized products.

Blank Labels

Shipping and Handling

The charge for shipping and handling will be added during the check out process.  It is calculated based on location and the weight of your order.  Orders are shipped UPS Ground, we must have a physical address.  Blank Labels cannot be shipped to a PO Box.

Shipping to U.S. Addresses

Charges for shipping and handling will be automatically added for addresses in the continental United States.  Please contact us at Support@Label-Headquarters.com for shipping options to other locations.

Shipping Time

Most BLANK label orders are shipped within 2 business days if the items are in stock.  If the labels have to be produced it may take an additional 3 days.  We will let you know as soon as possible of any delays.  Expect orders to arrive within 2 to 6 days after they are shipped.  Tracking information on BLANK label orders will be sent as soon as it is available.